2020
26 июня
Интервью Бориса Азаренко в Bloomberg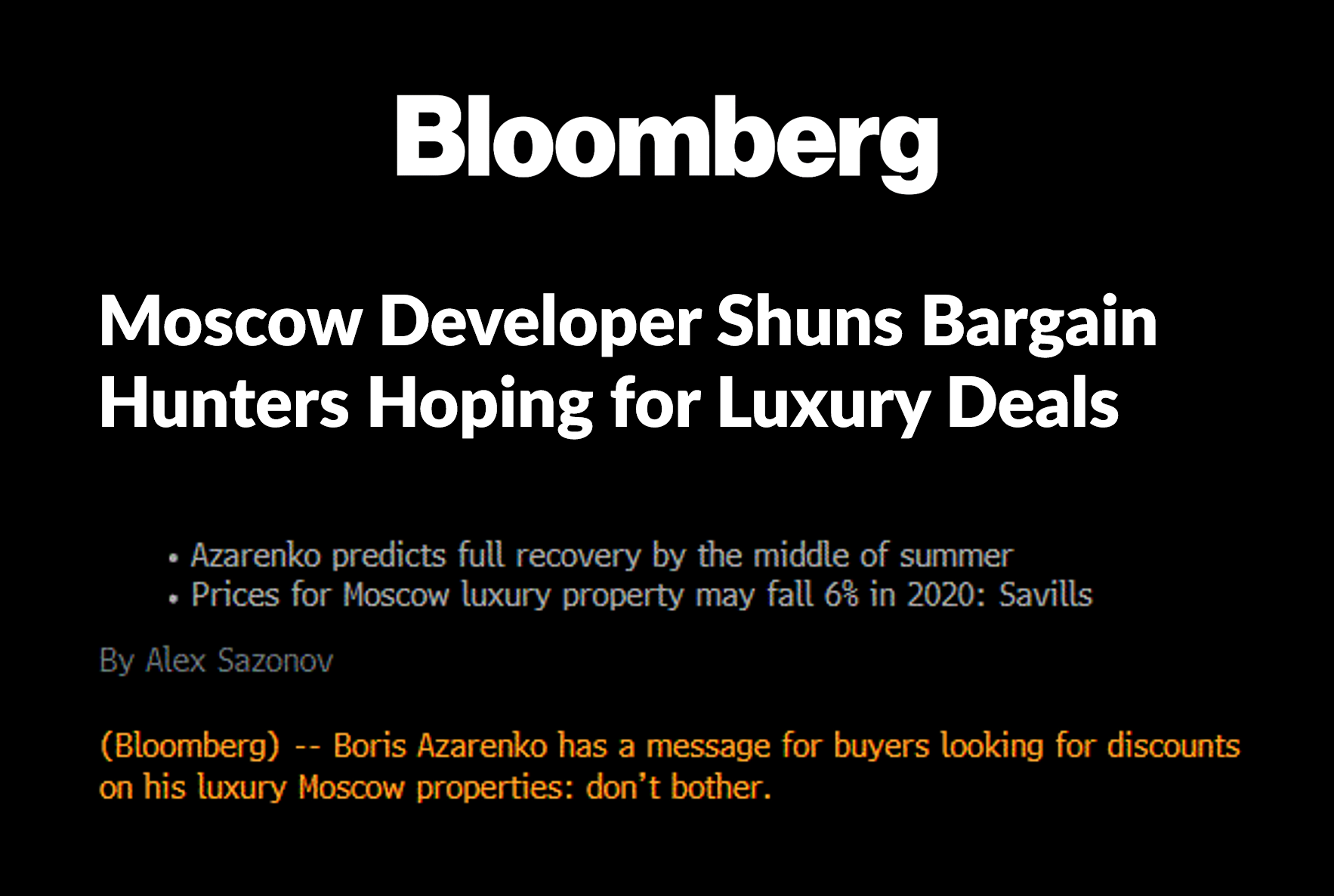 Moscow Developer Shuns Bargain Hunters Hoping for Luxury Deals
Azarenko predicts full recovery by the middle of summer
Prices for Moscow luxury property may fall 6% in 2020: Savills
Boris Azarenko has a message for buyers looking for discounts on his luxury Moscow properties: don't bother.
"We aren't going to lower prices" the developer said. He sold two $30 million penthouses in April, according to Knight Frank LLP. Both were more than 600 square meters (6,450 square feet) with terraces and 4-meter high windows overlooking the Moscow river. "We will always have buyers in our segment."
Never mind that the market for luxury homes is struggling from New York to London as cities reopen following weeks of lockdown to halt the spread of Covid-19. In Moscow, only five deals with properties worth more than $1 million got completed last month, compared with 113 in March, according to Savills Plc's Russia unit, which sees real prices for luxury homes plunging about 6% this year.
But Azarenko, one of Moscow's three biggest developers of luxury properties, isn't worried. He expects plenty of buyers for his properties as the Kremlin pumps money into the economy to offset the impact of the coronavirus and an oil-price war. What's more, Vesper, the property developer founded in 2010 that he heads and co-owns, has long been building its developments with air purification and disinfection systems, features that are now even more desirable among his clientele.
The Moscow market is slowly returning to normal, in Azarenko's view. Vesper resumed work at all its projects in May, and its European and Chinese suppliers are back to business as usual. Even though sales have more than halved in the past two months, demand will fully recover by the middle of the summer, he predicts.
Shopping Spree

Vesper, whose revenue grew 11% last year, has certainly done better than lower-end developers in the pandemic. His company is well positioned to endure any slowdown because of limited new supply, plus wealthy buyers will make up for the lost time by going on shopping sprees in the summer, he says. Vesper, which has been building 250,000 square meters of new housing in the center of Moscow, has enough liquidity to complete all its current projects, according to Azarenko.
"Elite property is a better investment than the broader market as it's more resistant to economic fluctuations," said Dmitry Khalin, managing partner at Savills Russia. "It's as if you were riding a wagon and hit a pothole, which you immediately bounced out of. There's some discomfort, but in general it isn't fatal. Unless, of course, there's a second wave of pandemic."
Some residents have fled the cities during the global lockdowns, and Sberbank Private Banking head Evgeniya Tyurikova said it saw an increase in demand for the purchase and rental of elite suburban real estate. But Azarenko, who himself escaped to his countryside house and now holds 95% of his business meetings via Zoom, doesn't see a renaissance of the Moscow outskirts.
"Banks absolutely don't believe in this segment, and this means that the entire project must be financed by equity," he said. "Are you ready to do the development yourself?"
--With assistance from Anna Baraulina.